Tomato salad is a summer staple that is perfect for using the ripe and juicy tomatoes that are commonly grown in home gardens. Not only is it a great way to enjoy the freshness of homegrown tomatoes, but it's also a versatile dish that can be served as a side dish, or as a topping for sandwiches and burgers.
Here is a simple recipe for a classic tomato salad: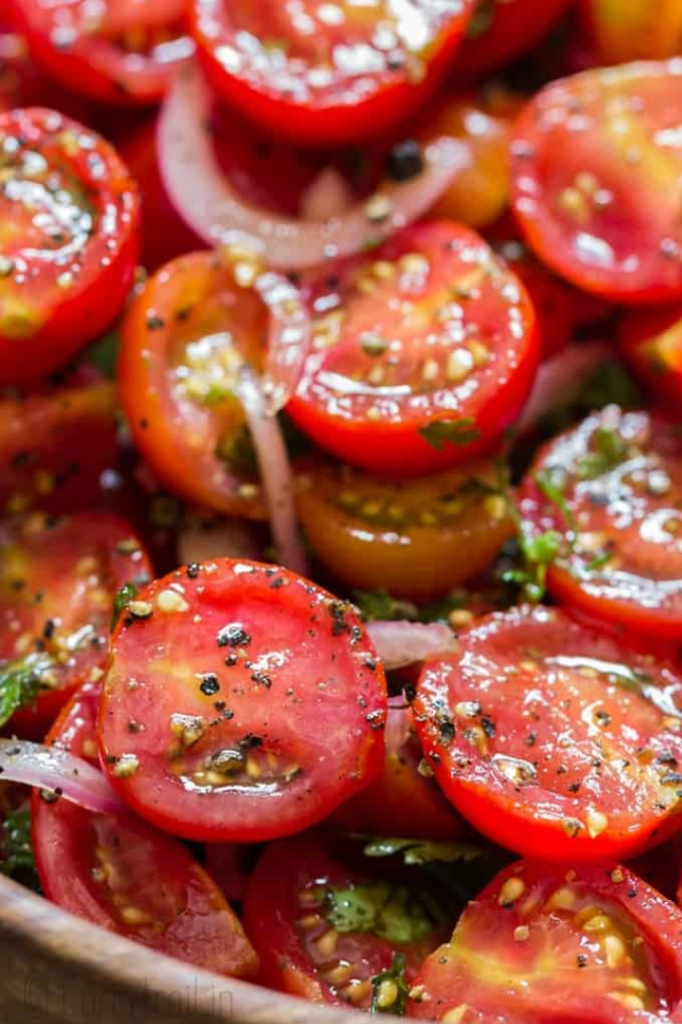 Ingredients:
2 cups of diced tomatoes (heirloom tomatoes, cherry tomatoes, or a mixture of both)
1/4 cup of diced red onion
2 tablespoons of chopped fresh basil
2 tablespoons of olive oil
1 tablespoon of red wine vinegar
Salt and pepper to taste
Directions
Rinse the tomatoes and pat them dry. Cut them into bite-size pieces and transfer them to a large bowl.
Add diced red onion, chopped basil, olive oil, and red wine vinegar to the tomatoes, and mix well.
Season with salt and pepper to taste.
Let the salad chill in the refrigerator for about 30 minutes before serving to allow the flavors to meld together.
You can also experiment with different variations of this classic recipe by adding different herbs such as parsley, cilantro, or mint. You can also add other vegetables like cucumbers, peppers or even some feta cheese for a tangy and creamy twist.
Tomato salad is a delicious and healthy way to enjoy the bounty of your home garden. It's a great way to use up an abundance of tomatoes and perfect for summer barbecues and potlucks. With this simple recipe, you'll be able to enjoy the taste of fresh, homegrown tomatoes all season long.
When it comes to tomato salad, the real key is to use the freshest, most delicious tomatoes you can find. And what better place to find them than in your own backyard! Whether you're harvesting cherry tomatoes, heirloom tomatoes, or a mixture of both, you can be sure that the tomatoes in your salad will be at the peak of freshness and flavor.